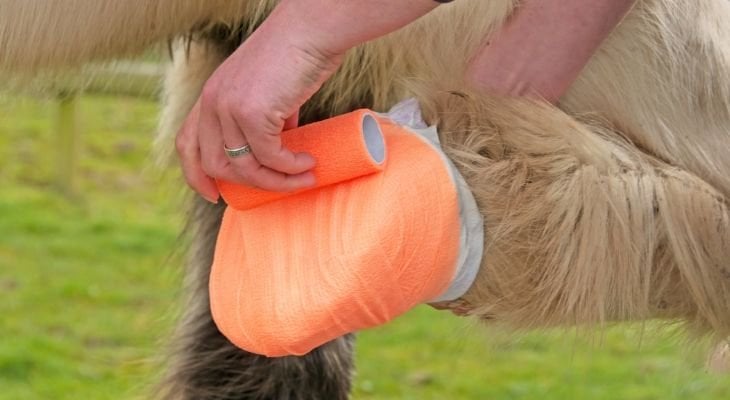 Cysts and abscesses can both form lumps on a horse's body. However, they stem from different causes. Infections cause abscesses, which are full of pus that accumulates under the skin. Cysts are typically present from birth or form during a horse's development. In some cases, a veterinarian will recommend draining or surgery for both cysts and abscesses. If a cyst is not causing your horse pain, your veterinarian might encourage you to leave it alone.
Abscesses
A nail in the hoof, a wound and bacteria are all possible causes of an infection. When your horse has an infection, a lump of damaged white blood cells may form at the infection site. This infected area naturally becomes walled off to isolate the infection. Pressure in this lump usually causes inflammation and pain. You might notice pus, swelling under your horse's skin, a firm lump, a tender lump, a lump that's hot to the touch and / or lameness.
If your horse has an abscess, consulting with your veterinarian is critical. Your vet might want to take a pus sample to send to a lab for analysis. Your horse may need antibiotics, treatment with a poultice or other method of draining the abscess. Hoof abscesses may require hoof trimming.
Your horse may feel better immediately after your veterinarian releases pressure in the abscess.
Bone Cysts
The stifle joint is the most common place in a horse's body for bone cysts to form. This joint, where the femur, tibia and patella meet, is akin to the knee in humans. Less commonly, cysts form in the elbow or in other parts of the horse. Bone cysts are also called subchondral cysts, as they usually form within a joint, underneath the cartilage.
Riders often first notice something is wrong because of intermittent lameness and a shortened stride. About 75 percent of horses diagnosed with bone cysts are under 4 years old. Usually, the cysts form during abnormal development early in a horse's life, especially if the horse has larger bones or grows faster than the average horse. Poor diet can also contribute to cyst formation, including imbalances between calcium and phosphorus, copper deficiencies or excess zinc.
Uterine Cysts
Older mares who have had several pregnancies and births are the likeliest candidates for uterine cysts. What starts as uterine scar tissue winds up clogging lymphatic drainage channels, causing a fluid backup. Cysts form around this fluid.
Uterine cysts may or may not be serious. A few cysts do not make much difference to a horse's wellbeing, unless they are very large. If the cysts are too large or numerous, they can form a barrier that blocks semen from entering the uterus. If a mare with major uterine cysts does manage to become pregnant, the cysts can compromise the embryo's mobility.
In some cases, surgery remedies the uterine cyst problem. If the uterus is healthy, chances are good that the mare can get pregnant again and carry a fetus to term. However, too much scar tissue and adhesions will leave her infertile after surgery.
Keratinized Skin Cysts
Keratinized skin cysts are rare in horses. The two most common types are dermoid cysts and keratomas. Thoroughbreds are the likeliest horses to develop dermoid cysts. These cysts form around hair shafts, usually on the back of the horse's head or along its spine.
Keratomas most often form in the hoof wall of the horse's toe, or, more rarely, its heel. Usually caused by a traumatic injury, keratomas can take a while to present themselves. Degradation of bones may eventually cause lameness.
Skin cysts may occur alone or in groups. They are benign. Your veterinarian may want to remove keratinized cysts. Do not do it yourself. Squeezing the pimple-like cysts can release their contents into your horse's body, causing a serious inflammatory response.
If your horse has any suspicious-looking lumps, is going lame or seems to be in pain, call us today. We will act immediately to optimize your horse's health.