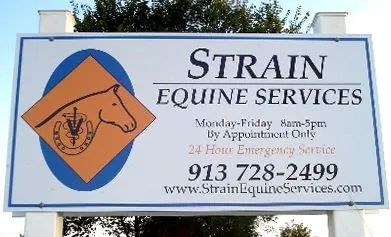 Strain Equine Services is located in Basehor, KS, less than 15 minutes west of the Kansas City Speedway. Dr. Strain opened the practice in 2007, and we now have three doctors.
Our doctors' are specialized in equine dentistry, lameness, and acupuncture. As well as having a strong background in reproduction, internal medicine, and surgical aspects of equine veterinary medicine.
Our constantly growing facility currently has two heated barns with five 12 x 12 stalls with rubber mats, 2 spacious examination areas, two sets of stocks for all sizes of horses. Our second barn has a climate controlled surgical and recovery room. Outside, we have a 60 foot round pen, a flat concrete run way to perform our lameness evaluations and four 12 x 24 foot outdoor paddocks.


Philosophy
"Strain Equine Services, LLC was developed with two things in mind; the equine patient, and you the client. We feel strongly that the client should have options when it comes to the treatment and care of their animals. We will provide the highest quality of medicine and surgery for the equine patient and owner."