Medical acupuncture involves the insertion of small, sterile needles into specific points on the body. These points have nothing to do with 'energy flow', however they do correspond anatomically to nerves, vessels, and myofascial planes. A typical session will start with a comprehensive exam tailored to the needs of your horse. This may include a lameness exam, reproductive exam, or other specialty exam followed by a thorough myofascial exam and manual therapy. The end result is a treatment plan customized to your horse's needs which may include acupuncture, electroacupuncture (E-stim), cold laser therapy (K-Laser), or a combination of these techniques. These therapies allow us to evaluate and treat the 'whole horse' in conjunction with modern western medicine. It is truly amazing what you can learn about your horse that may have otherwise gone undiagnosed or untreated. The uses of medical acupuncture and related techniques include but are not limited to: improving and maintaining performance in our equine athletes, aiding in the recognition of underlying gastrointestinal, dental, or musculoskeletal disease, pain management, immune modulation, treatment of nerve injury/paralysis, episodes of acute non-surgical colic, reproductive disorders, respiratory disorders, laminitis, and wound healing.
Dr. Johnson would be happy to answer any and all questions you might have regarding these new treatment options. If interested in setting up an appointment, please call the office at 913-728-2499.
Class IV "Cold" Laser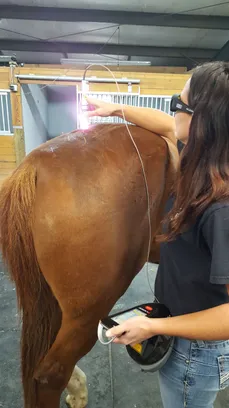 Introducing the K-Laser a Class IV Medical Laser. Laser Therapy accelerates the body's natural healing process through photo-bio-modulation. Laser therapy is effective in treating chronic conditions, acute conditions, and post- surgical pain and inflammation.
Clinical Benefits
• Non-pharmacologic pain relief
• Effective for difficult conditions
• Alternative to surgery
• Fast treatment times
• Easy, comfortable, non-invasive treatment
• Scientifically-proven
We have successfully treated sore backs, withers, sore necks, poll and TMJ inflammation, soft tissue injuries such as suspensory ligament and flexor tendon strains/tears. Cold Laser therapy is also a great adjunctive treatment for wound healing in acute or chronic situations.